Reading Time:
10
minutes
When it comes to digital marketing, it is necessary to keep learning new skills, and this is the reason there are so many digital marketing certifications out there.
In this fast-growing world, digital marketing trends keep on changing, and this is why digital agencies and companies now look for candidates who are up to date with the latest trends, tactics, and skills.
To step your foot into the digital marketing world, you need to have relevant skills on your resume, and this is where digital marketing certifications come in the picture.
Digital marketing certifications strengthens the profile and increase the chance to get hired in reputable organizations.
As we mentioned above, there are so many certifications available on the internet that it makes it very difficult to choose which one is the best for you.
But don't worry, we got your back.
Here is a list of 58 best digital marketing certifications that will sharpen your skills:
Google AdWords Certification
To start your digital marketing career, you need to become familiar with Google tools.
Advertising on Google helps you in generating quicker ROI for your business, and this why a Google Ad campaign can make or break a marketing plan.
The Google AdWord Certification is a professional certificate for people who want to demonstrate their knowledge of Google AdWords. The validity of the certificate is for one year.
To pass the program and become Google AdwWord Certified, you are tested on your basic and advanced knowledge of Google Ads.
Your concepts on online advertising, campaign setup, execution, management, measurement, and optimization should be clear.
You need to score above 80% to pass the Google Ads fundamental exam.
To Get Started: Create an account on a Google Analytics Academy.

Cost: Free
HootSuite Social Marketing Certification
Nowadays, employers are seeking candidates that are willing to continuously learn about the growing platform and committed to staying a step ahead.
Hootsuite is a popular social media management platform that also offers courses and certifications for people who want to grow and improve their skills.
Hootsuite offers courses and certifications ranging from intermediary level to advanced level as per the need and requirement of the candidate.
Their Social Media training courses, in particular, helps you to test your ability as a social media marketer as well as your knowledge of social media marketing.
To earn the social media marketing certification, candidates need to pass an online exam that consists of 60 questions.
To Get Started: Visit Hootsuite Academy

Cost: There are various certifications available. some of them are listed below-
Google Analytics IQ Certification
Google Analytics is one of the tools that marketers use to measure the growth of website traffic, and learning about it is an essential part of digital marketing.
This is one of the digital marketing certifications that has become very crucial in today's era considering the amount of data organisations process on a daily basis.
Google Analytics Certification helps you to become more proficient in utilizing google analytics at your work. To attain the certification, the candidate has to pass the final assessment that contains 60 questions. If you fail the exam, you can re-take it in seven days.
To prepare for the exam, set up an academy for Ads account and go through Google Analytics for Beginners and Advanced Google Analytics courses.
To Get Started: Create a Google Analytics Academy profile.
Cost: Free
HubSpot Content Marketing Certification
In the digital world, everything revolves around the content. If your content is good, your product will be a superhit.
After all, it is rightly said, "Content Is King."
Today recruiters look for candidates who have good communications and writing skills. Therefore, it is a good idea to add HubSpot content Marketing Certification to your resume.
The HubSpot Content Marketing Certification covers 12 separate categories that make the program perfect for aspiring content marketers who want to sharpen their skills.
To Get Started: Visit HubSpot Academy Content Marketing Course
Cost: Free
Facebook BluePrint Certification
Facebook has 2.5 Billion users, which makes Facebook advertising an effective way for your organization to reach a maximum audience.
Almost every business uses Facebook to scale up their online presence and services.
You can earn a reputable designation in leading digital organizations by enrolling in BluePrint Certification by Facebook.
The program offers nine certifications:
To Get Started: Visit Facebook BluePrint Certification
Cost: $150 for each exam (may differ based on your country)
HubSpot Inbound Marketing Certification
Another one from folks over at HubSpot is Inbound Marketing Certification. This is one of the digital marketing certifications that cover methods on how to draw visitors and retain them in the long run.
The certification helps in providing insights on how to increase web traffic, boost brand value over the internet, and provide exceptional services as an online customer service representative.
The certification contains 11 classes that cover lessons on content creation, social promotion, converting and nurturing leads, and much more.
To Get Started: Go to HubSpot Academy and visit HubSpot inbound certification course page.
Cost: Free
YouTube Certification
Youtube is the largest search engine in the world after Google. To get certified from a platform like that is a big deal.
Hundred hours of video are uploaded every minute on youtube, and it processes more than 3 billion searches a month.
80% of marketers prefer visual assets in their social media marketing because videos have become a preferred content medium. Therefore it is crucial to have a well-defined video content strategy.
The Certified Program is committed to educating all creators and users on the platform, and the certification is valid for one and a half years (18 months) from the date you pass your certification.
To Get Started: Visit YouTube
Cost: Free
LinkedIn Learning- Content Marketing Course
LinkedIn Learning offers various courses, but their content marketing foundation certification is one of the best you can find.
This course is mainly suited for beginners in content marketing.
If you have zero knowledge about content marketing, this is the course you should be looking for.
It covers the following topics-
Defining Content Marketing
Creating a Foundation for Content Marketing
Creating Your Content Plan
Creating Your Content
Promoting Your Content
Measuring Your Content
To Get Started: Visit LinkedIn Content Marketing Course.
Cost: Free
Udemy
Udemy is one of the biggest online learning platforms that provide courses of subjects covering all areas of marketing from Email Marketing to SEO to Google Ads.
Udemy offers a complete course of digital marketing that consists of 12 courses.
Topics-
Market Research
WordPress Setup
SEO
SEO Writing
YouTube Marketing
Google Ads
LinkedIn Marketing
App Marketing
Email Marketing
Google Analytics
Social Media Marketing
Facebook Ads
The complete digital marketing course helps you to learn all about digital marketing. You don't need to have any prior knowledge to start this course.
You can find various courses on Udemy, choose as per your requirement and need.
To Get Started: Visit Udemy.
Cost: $199
SEMrush Academy
The SEMrush Academy offers courses on both basic and advanced levels.
Their main focus is on courses on how to run SEMrush, but they also have courses that cover general concepts like SEO fundamentals, PPC fundamentals, technical SEO, and social media marketing.
Some of the courses covered by them are-
SEO
Content Marketing
PPC
Affiliate Marketing
Social Media Marketing
The courses are also available in Spanish and are taught by professionals.
This course will help in running successful digital marketing campaigns.
To Get Started: Visit SEMrush Academy
Cost: Free
Simplilearn Digital Marketing Specialist
The digital marketing course offered by Simplilearn offers walkthroughs of more than 40 digital marketing tools this will help you to get a good idea about which tool to use for your digital marketing campaign.
It provides a beginners course which includes the following topic-
SEO
Social Media
Pay-Per-Click (Facebook and Google Ads)
Conversion Optimization
Web Analytics
Content Marketing
Email Marketing and Mobile Marketing
This course also prepares you to get certified for Google Ads, Facebook, Google Analytics, and Youtube.
To Get Started: Visit Simplilearn
Cost: $1499
ClickMinded- Email Marketing Course
ClickMinded Email Marketing Course is said to be taken by industry experts who maintain email marketing strategies for big companies.
The course is taught by Lucas Chevillard who is an email strategist for Airbnb.
The course is designed for both intermediate and expert learners and includes both high-level strategies and specific tactical walkthrough.
This course will definitely help you to grow in your career and get you a promotion.
To Get Started: Visit ClickMinded
Cost: $497
Skillshare – Affiliate Marketing Course
Skillshare offers various courses, but their Affiliate Marketing course is one of the best certifications out there.
If you are determined to get your first sale through affiliate marketing, this is the best course for you.
The affiliate marketing course provides over 50 classes and is available in three difficulty levels- beginner, intermediate, and advanced. They teach you tried and tested strategies through the course so that you can have an edge over others.
The platform provides you plenty of assignments to practice the concepts taught in the class.
This course will give a lot of practical knowledge because it uses examples from the real world, and you'll be able to apply them to your work.
To Get Started: Visit Skillshare Affiliate Marketing Course
Cost: Free
Adobe – Email Marketing Course
Everybody knows about Adobe, it is an American multinational computer software company. You may also have used many of its software.
Adobe with its solution partner program offers digital marketing certifications for various subjects and categories which helps you to solve the most critical problems with the right skills.
Adobe offers these courses through both, on-demand digital classroom and instructor-led sessions.
Certifications:
Email Marketing
Adobe Analytics
Adobe Campaign
Adobe Advertising Cloud
To Get Started: Visit Adobe Digital Learning Services and sign up
Cost: $65
Microsoft – Advertising Certification
As you, all know Microsoft is an American Technology Company, but to your surprise, Microsoft also provides online courses and offers digital certifications.
Imagine how much it would help you in your career to be Microsoft Certified. The brand will reflect a lot in your resume and will help you in having an edge over other candidates.
Microsoft provides an Advertising certification that helps you drive your business forward as a Microsoft Certified professional.
You just have to take the free course and prepare for the exam. After the completion of the course, you have to appear for the exam.
To pass the exam you need to score more than 80% marks
To Get Started: Visit Microsoft Ads Training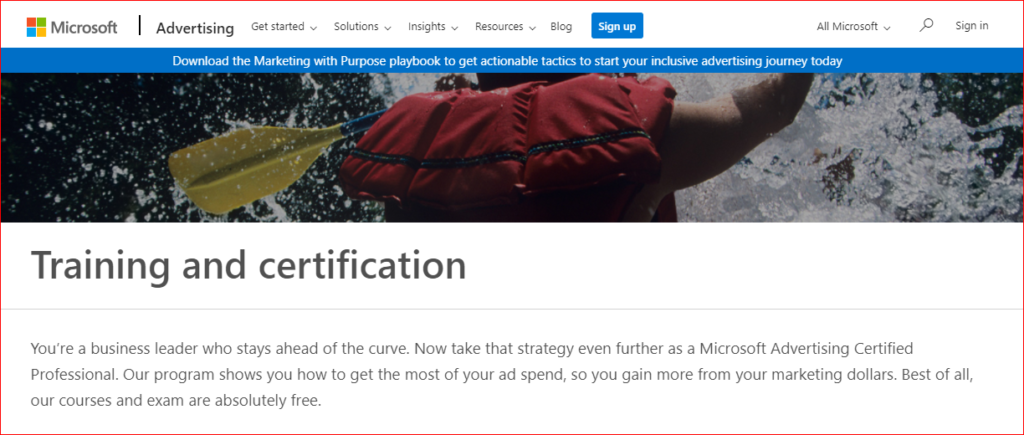 Cost: Free
Google– Content Marketing Course
Google offers a content marketing course by the name "Promote a business with content".
With the help of this course, you will learn how to promote your business by using content as your power.
The course is for beginners i.e it is for people who do not have any knowledge regarding content writing and marketing.
The course consists of 4 modules with features like video tutorials, easy to implement tips, end of topic assessments, and unlimited access.
Modules Include:
Get noticed with social media
Deep dive into social media
Make the most of video
Get started with Content Marketing
To Get Started: Sign up to Promote a business with content marketing course.
Cost: Free
LinkedIn Learning Affiliate Marketing Course
If you have any online property such as a website, blog, etc you can earn through affiliate marketing.
LinkedIn learning through its affiliate marketing foundation course helps you to explore the basic principles of this powerful technique, explaining how to create a successful affiliate marketing business.
The course consists of 4 modules and it covers the skill of market strategy and affiliate marketing.
Modules Include:
The basic of affiliate marketing
Brand building as an affiliate marketer
Applying for affiliate programs
Building your affiliate marketing strategy
To Get Started: Sign up for Affiliate Marketing Foundation Course
Cost: $20
WordStream – PPC Course
Pay-Per-Click (PPC) is a complicated topic. Therefore there is a need for a proper and organized framework of PPC courses to teach you the basic and advance PPC strategies.
Thus, WordStream came up with PPC University Course.
PPC University is a free PPC Marketing course to help you learn PPC.
The PPC U training course gets divided into 3 PPC courses:
Beginners- PPC 101
intermediaries- PPC 102
Advance- Advanced PPC
PPC University also includes a PPC course module on social advertising that will teach you about social media marketing, Facebook Ad Campaign optimization, Facebook Ad Creation, and more.
To Get Started: Sign up for PPC University Course
Cost: Free
Conclusion
You must be wondering why you should invest your time in these certifications rather than doing an actual job and gaining experience.
A simple answer to this is these courses will help you in finding employment in top companies and give you an edge over other candidates. If you are already employed, these certifications will help you with your promotion.
To help you with your career, we came up with this list of top certifications. Choose according to your needs and excel.
And always keep in mind, Opportunity Will Come to Those Who are Qualified.
. . .
Published by:
Ayush Verma
Ayush Verma is currently a digital marketing intern at Marketing Lake and pursuing his undergraduate degree from Dr D Y Patil Global Business School And Research Centre, Pune. He is highly motivated to improve his skills and grow professionally.