Reading Time:
7
minutes
Nowadays, only posting content on the web is not sufficient. According to the latest social media statistics, one needs to monitor the online reactions of the audience constantly. Many social management tools can help capture and gauge online performance. You need to pick the appropriate tool to make marketing automation seamless. Here are some factors that will help you choose the best social media management tool.
Compatibility: You must not invest in a tool that provides only partial returns. If your brand has a presence on several social media platforms, you must purchase a tool compatible with powerful social media platforms.
Engagement: Listening to your customers and their requirements is the ultimate method of engaging with the audience. So, investing in a tool with various engagement options would be wise.
Generating reports: Creating and publishing content on social media is a significant component of every social media strategy. You need to analyze the reports related to social media performance. The appropriate tool will help in generating accurate reports.
Analyzing competitors: A social management tool should help analyze competitors and their social media operations. Various metrics like posts, influencers, campaigns, etc., determine the competitor's performance.
Interface: A marketer needs to deal with a tool that simplifies each marketing activity. A social management tool must have an easy-to-use interface that offers a great experience. In addition, this tool must be easily modified to suit the changing requirements.
Cost-effective: A significant factor determining the choice of a social media management tool is its cost. Several tools are on the expensive side. Before opting for a tool, you must review its features and assess whether it suits the costs.
Now, let us look at the 10 best tools that help enhance your marketing strategies and upgrade your business.
SocialPilot helps small, medium, and even large businesses with social media automation and analytics tool. This tool covers everything from scheduling posts on social media to managing clients. You can also integrate SocialPilot with platforms like Facebook, LinkedIn, Twitter, Instagram, and TikTok simultaneously.
The social media calendar feature allows you to monitor your social media campaigns easily.
Thus, incorporating filters into calendars and monitoring social media campaigns via accounts and groups becomes easy. In addition, the tool provides valuable analytics of automated social posts and lets you adjust with downloadable PDF social media reports.
Its team collaboration feature enables you to add and assign accounts to your team members. For moderating conversations on Facebook pages, you can use your Social Inbox. Whenever you face any trouble, you can contact its customer support via call/chat/email, available 24*5.
Pros
Improved collaboration for hassle-free social media management
High-quality browser extension
Dropbox and Google Drive integration for accessing media easily
Canva integration for creating fantastic images on social media instantly
Pricing
The tool offers a free trial for 14 days. After that, its professional package is priced at $35 per month. The studio package is priced at $75 per month. In addition, you can avail yourself of the enterprise and the agency package at $150 monthly.
This social management tool offers features that help automate and plan content and schedule social media posts and analytics. The Content Planner section enables the concerned individual to plan, manage, and brainstorm when and where content is published.
Its social media content calendar is handy in readily viewing, accepting, and editing posts. It decreases the chances of sending content filled with errors.
The tool also helps all teams to collaborate. Moreover, it reduces clutter and organizes content in a list. You can also sort and label posts according to type, status, and member in the content calendar.
Pros
The editorial calendar is available for a trial period.
A single interface helps in boosting productivity.
It provides content management features across several channels.
The powerful filters enable users to manage calendars conveniently.
Cons
ContentStudio does not have a social inbox in the IOS version.
One of the most popular social media automation tools for marketers, Hootsuite is compatible with numerous platforms. However, its complex features and pricing range primarily cater to large enterprises and agencies.
Hootsuite allows its users to monitor a variety of social media platforms simultaneously. In addition, it provides real-time updates on all your brands.
Pros
Its automated social media posting helps you view social media streams in a single section.
You can avail reports when you need them to understand the performance of your social media strategy.
Cons
Small businesses and agencies are not able to afford the tool.
Social media reports need extra payments.
Pricing
The plans are priced at $29, $129, and $599 monthly. It also comes with a 30-day free trial.
An essential social media management tool, BuzzSumo provides an in-depth understanding of content marketing strategies. So, you do not need to waste time brainstorming content topics. Instead, BuzzSumo will assist you in discovering the most popular keywords if you enter the specific domain name in the search bar. Then, from location to duration, you can filter your results.
The tool also aids you in collecting analytics from popular platforms like Facebook, LinkedIn, Pinterest, Twitter, and the like.
Pros
Users can identify the most widely shared content quickly.
Since it identifies appropriate content topics, you can quickly build links.
Using BuzzSumo, you can discover influencers within your domain and develop strong relationships with them.
This tool implements a feature called scheduling functionality. It is available on Facebook, LinkedIn, Instagram, and Twitter. Users with the pro package can avail themselves of Pinterest also.
The default feature provides four slots every day. You can add or delete slots daily based on the number of campaigns you wish to post. It offers extensions for browsers like Chrome, Safari, and Firefox. You have to click on the Buffer icon to schedule your posts, which will be added to the queue. The tool is compatible with both IOS and Android applications.
Pros
Users get complete liberty to customize their posts based on their social media accounts.
The tool offers insights into suitable times to send your campaigns.
Buffer's lively online community is great to engage with.
Cons
For receiving analytics, you need to spend a considerable amount.
Pricing
It comes with a 14-day free trial. After that, Buffer includes a forever-free plan and plans available at $5 and $10 per social channel.
This social management tool helps in achieving efficiency for marketing companies and solopreneurs. It integrates with WordPress to push content to the desired social media account when you hit the 'publish' button.
CoSchedule's speciality is offering users a 'Top Content Report,' which provides insights into your campaign's social engagement. This feature benefits content marketers and helps them understand the performance of their marketing campaigns.
Pros
Users can visualize the content in a single space. In addition, the tool enables them to create a calendar that helps team members view upcoming events.
The tool supports approval procedures.
Cons
Recently, the tool has become sluggish due to massive data.
If you decide to change your posts' schedules, you must manually change your templates.
Pricing
The plans start at $0-$20 and go up to $60, $210, $300, and $1200 monthly. A 14-day free trial is also available.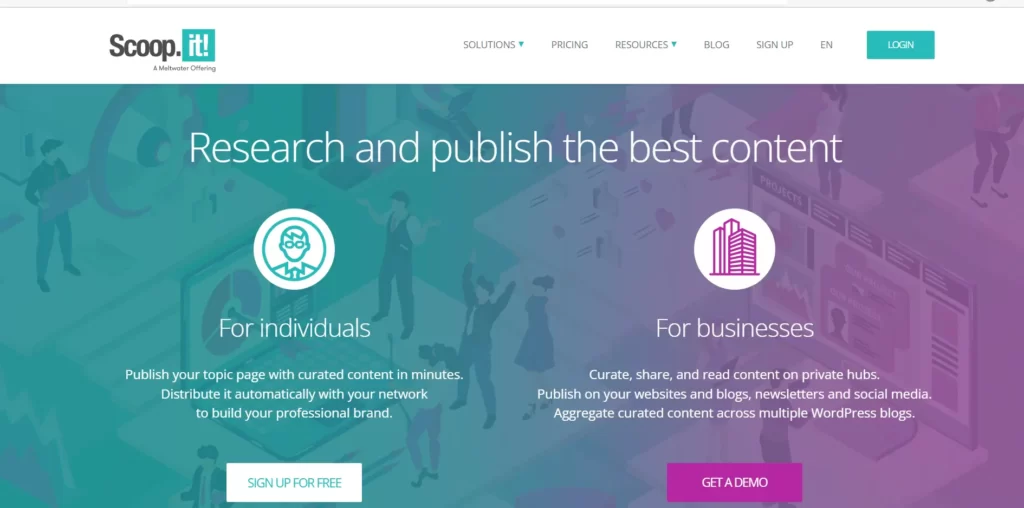 Scoop.it comes with a free plan. You can create particular topics, share ideas, and connect with like-minded people. Curating content from any other source is also possible via Scoop.it. Also, you can share content across the desired social media platforms with a button click.
This social media management tool helps users in generating ideas using specific keywords.
Pros
The tool updates users on current topics based on keywords.
Sharing content to different channels becomes simple with a click.
The front page displays relevant information related to topics and curator profiles.
Cons
Since businesses are increasing, we need a tool to serve business requirements efficiently. Zoho Social helps in monitoring social conversations and brand mentions. It provides an unlimited social media scheduling feature and establishes a custom report to analyze social media.
The tool manages social media platforms such as Twitter, Facebook, Instagram, LinkedIn, and the like.
Pros
Its time slot feature helps schedule posts for maximum audience engagement.
The automated report creation enables users to share reports with clients.
Cons
It lacks a combined analytics feature.
The most common feature, feed integration, is absent in Zoho Social.
Using this tool, you can plan and schedule content for various platforms. In addition, the tool makes it possible to manage campaigns due to its intuitive category-based scheduling system. For example, you can assign a particular category to each post after scheduling a post to stay on track with your content.
Managing your campaigns on Facebook, LinkedIn, Pinterest, and Instagram is possible with this tool. You can use it to plan hashtags and preview the posts before they go live. In addition, the custom URL and tracking features can help create short URLs and generate tracking codes to measure interactions with the audience.
Pros
You can automate aspects of your campaigns.
The tool helps in setting up multiple workspaces for more than one brand.
Cons
SocialBee is suitable for larger agencies and companies.
Pricing
Its plan starts from $19 every month.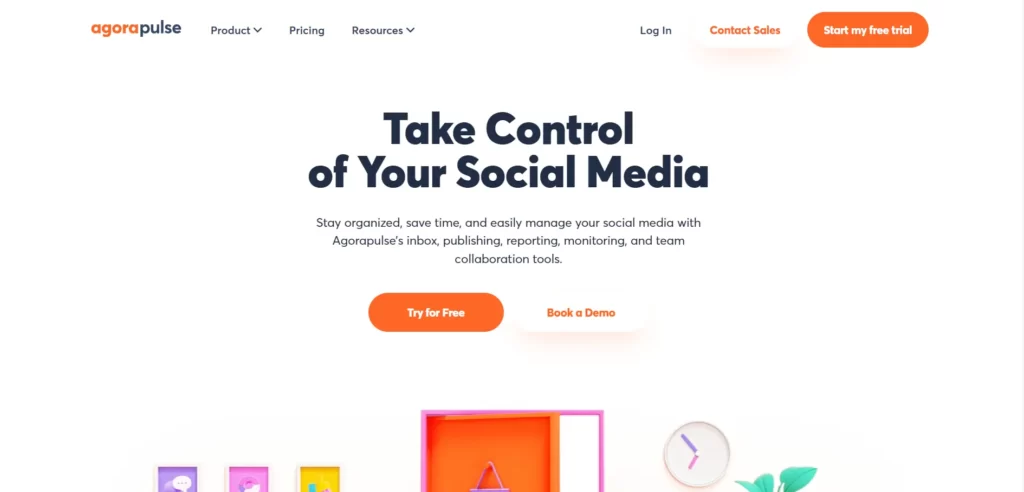 An all-in-one social media management tool, Agorapulse is ideal for managing and reporting everything. It includes a social media inbox for managing direct messages and comments.
The tool also features a social media publishing, reporting, and monitoring tool. In addition, Agorapulse contains automation features to manage social media campaigns quickly and efficiently. Therefore, this tool is perfect for operating large-scale social media campaigns.
Pros
It comes with keyboard shortcuts and a saved reply feature.
Its automated moderation assistant assigns texts to appropriate team members. In addition, it auto archives spam tweets and messages.
Pricing
The tool has a free plan, and its paid plan starts from $79 per month.
With time, social media marketing has evolved tremendously. It demands a consistent commitment to maintaining a high engagement rate. The tools mentioned above are some of the best social media management tools in the market that help create a lasting impression.