Reading Time:
8
minutes
The Social audio app launched in 2019 has seen tremendous growth and traction across the globe. We are talking about none other than Clubhouse. It was initially designed for podcasts under Talk show, but the app was rebranded as Clubhouse. The clubhouse is a live audio app that allows people to listen to or actively participate in live discussions. Nothing is recorded. It was officially released for the iOS Operating system in March 2020, and approximately one year later, in May 2021, seeing the higher demand for this app, they have launched a beta version of the Android app, and the rest is history.
So, what are the features of Clubhouse?
Rooms
Clubhouse's core feature is real-time virtual "rooms" where members can converse via audio. Rooms are divided into categories based on their level of privacy. There are open rooms that anyone on Clubhouse can join, and it is a default option when you are creating a room.
The next one is social rooms, in which only users followed by the moderators (the ones who create the room in Clubhouse) are allowed to join. In Which users need to receive an invite from the moderators to join the closed rooms.
Under rooms, there are three sections
The profile picture and name of every user present in a room are displayed in the section and whenever a user creates a room they are assigned the role of a moderator, which gives them the authority to call users to the stage (to lead the talk) and mute the users if required and also to remove the users from the stage if wanted.
When a user joins a room, they are initially assigned to the role of a listener and the users will not be able to unmute themselves and the listeners can give the required notification to the moderators of the clubs of their interest to join the stage and speak by using the hand raise option.
When the user wants to leave the room, they can use the 'leave quietly' button, and it is also a default option.
Coming to the next features, the events
Since there are many conversations that go on parallel in Clubhouse, users can schedule the conversations by creating events. So, while scheduling an event, moderators/users need to enter the event's name, and they need to set the date and time in which the conversation will happen. Moderators can have the option of adding co-hosts to moderate the event. So, after the successful creation of the event, the event will be visible in the Clubhouse bulletin. Bulletin is nothing, but it shows the upcoming scheduled events and allows the moderators to set any notifications by clicking the bell icon respective to the event.
The next feature is Clubs,
In the Clubhouse, clubs are communities based on a common interest. There are many clubs in the Clubhouse across various topics, and the users could search the club with the search button.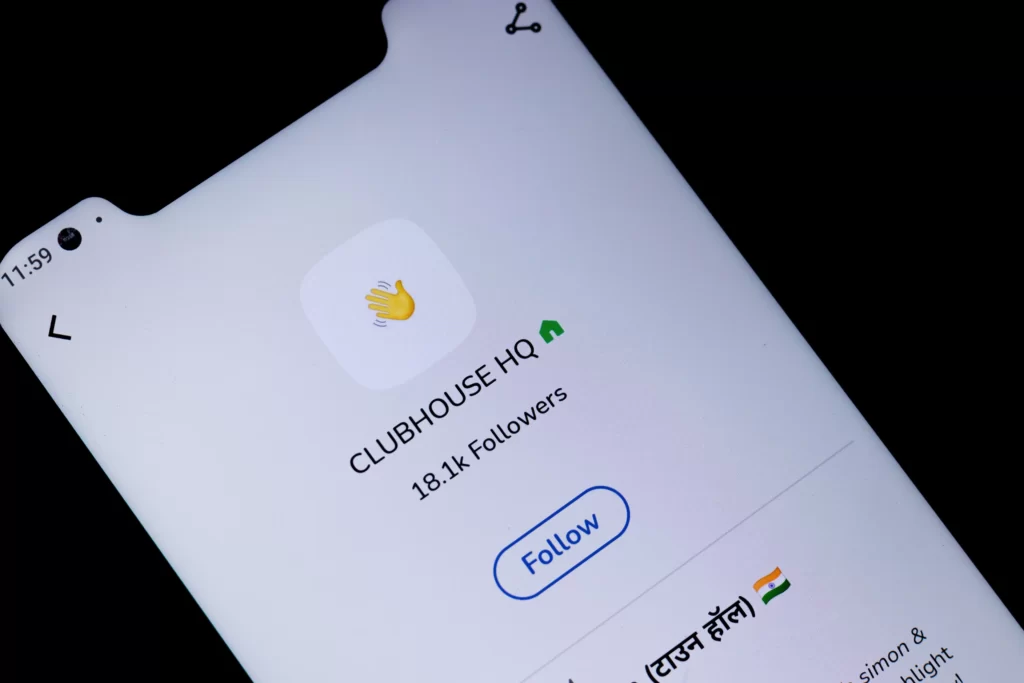 There are three types of users under the club are
Admin – Who has access to modify the club settings, addition/remove users from the club, and change the user privileges if needed.
Leader – Leaders have all the privileges of a member, also authorized to create/schedule club-branded open rooms
Member – Members can create private rooms and invite more users into the club
And also, there are three types of clubs in Clubhouse:
Open – This is open to all
By Approval – In which the moderator or the admin needs to approve the request only then they can be able to be part of the respective club
Closed for Membership – It is exclusive to the membership
The next feature on the Clubhouse is Backchannel
It is the messaging function that allows users to have the option of interaction via text individually or within a group, it is the recently launched feature in Clubhouse.
The next feature is Explore
Explore in the Clubhouse is nothing, but the recommendations are based on the user's people and clubs. Users will be taken to the explore page by clicking the explore symbol, which is a magnifying glass icon. On the explore page, users can look for people and clubs to follow, as well as find conversations organized by topic.
Clubhouse Direct payment
This is the app's direct payment option, which lets users transfer money to content creators who have enabled the feature in their profile. By clicking on a creator's profile, selecting "Send Money" and entering the appropriate amount to send, users can send money to them. Users will be requested to register a credit or debit card when they do this for the first time. The creator will receive the entire money. According to Clubhouse's payment processing partner, Stripe, the user will additionally be charged a modest card processing fee.
Users can send money to a creator by going to their profile and choosing the "Send Money" option, then entering the appropriate amount and clicking "OK." The money will be transferred.
Another feature is Creator First:
Creator First under Clubhouse is a program intended to help the content creators on Clubhouse build their audience and eventually monetize their content with a direct payment system.
After failing to get any sponsorships for the creators, Creator First paid $5,000 per month to 24 creator shows for 90 days. Users slammed the pilot programme for a lack of openness in the selection procedure and terms of the Creator First contracts.
Value Proposition of Clubhouse
Clubhouse is a place where anyone can learn anything at any time. Because you can't register at random, it's unusual to find people who don't have anything to contribute to the website, and users are selective about whom they invite.
When the invite-only paradigm is exhausted, we may anticipate Clubhouse to function similarly to any other social media platform, with user-generated content being the primary format on the forum.
It quickly gained traction because of its successful launch, which attracted high-ranking individuals from around the world – billionaires, tech icons, digital marketing experts, celebrities, influencers, ex-CEOs of companies, and many more men of substance are in these rooms, sharing their experiences and making opportunities for others to learn.
Many celebrities in the entertainment industry, including Oprah Winfrey, Kevin Hart, Chris Brown, Tiffany Haddish, Ashton Kutcher, and others, have been active on Clubhouse, participating in lively debates in the rooms. Elon Musk even paid a visit to a Clubhouse room a few weeks ago, where he spoke and shared his ideas with the members.
The Clubhouse has proven to be a platform for increasing knowledge by allowing you to engage in talks with people you wouldn't otherwise have access to, learn from their extensive expertise, and apply it to your business. Clubhouse reserves advertising and subscription fees.
The expectations that the clubhouse parent company Alpha Exploration will turn the hype into money in the medium term are correspondingly high. The founders have not yet publicly commented on their plans, at least not outside of Clubhouse. According to digital analyst Kohlmann, the income model will most likely be dependent on other sites such as Facebook and LinkedIn. "The first way is usually through advertising. "It's clear that we'll see banners and sponsored conference rooms at some point," he says.
This is also indicated by a passage in the terms and conditions. For example, the commercial use of Clubhouse to advertise companies or products is therefore prohibited without permission. Companies may be able to buy this permit in the future.
"The second option is to purchase premium accounts that are ad-free or have additional features. Meeting rooms for companies that charge a fee could be a lucrative source of revenue "Kohlmann agrees. In the fine print, there are a few references to this revenue model. The parent company, Alpha Exploration, retains the ability to produce or charge a fee for "a subscription product or service," according to the terms and conditions.
The quest for a viable business model becomes even more important as the app's user base grows. Because the costs will rise as a result. Said Hashemi, an analyst at the German venture capitalist HV Capital (formerly Holtzbrinck Ventures), expects the clubhouse stars to want to be paid for their presence sooner or later. "At Clubhouse, the most successful rooms are those where famous personalities speak. Influencers, in my opinion, currently have none of it – at least not financially. If the Clubhouse wants to be a long-term success, it must give a compelling offer to influencers."
Commercial applications for Clubhouse
As a new social media network, The Clubhouse will find its sweet spot in terms of commercial applications. Let's look at some of the ways Clubhouse is now being used for business.
Business meetings
Business meetings can be held in the clubhouse. You may schedule a meeting with a date and time, invite your colleagues to the room, and set a reminder for the meeting, much as in Zoom or Google Meets. When a business meeting is conducted via Clubhouse, people who are camera shy or more confident without a video may be able to raise their points more effectively.
Finally, Clubhouse allows you to join a variety of clubs. Clubs on Clubhouse are similar to Facebook groups in that they are a smaller community of people who connect and raise themes for discussion. It is, however, audio-based. As a result, it's a subgroup where you can have more personalized discussions. You now have a basic understanding of Clubhouse, including how to join, what it is, and how it can be used as a personal and business development tool by establishing connections with successful people, thereby enhancing your business.
A new way of doing podcasting:
Clubhouse appears to be a podcasting service. But there's a lot more to it. It progressed toward podcasting by incorporating a social component (user-generated content and interactions) as well as a format that resembles radio and tales.
A new format for digital events
The clubhouse is intriguing for people working in digital events since it can be utilized as a new platform to establish an engaged community of users.
The popularity of social radio platforms is on the rise. The Clubhouse looks a lot like the modern version of radio, with a solid social media component. While radio, as a medium, has been adapting to other formats like podcasting. Clubhouse brings that to the next level. A "social radio platform" that is fully user-generated, with thousands of digital audio rooms and shows, where any show can be produced, from broader audience topics to niche and micro-niche level subtopics.
What are the ways to generate money on Clubhouse?
You might be able to make money by arranging digital events and, as with social media, podcasting platforms, or radio, by • Recruiting sponsors for your events.
• Increasing brand awareness and developing a strong brand
• Creating a sense of belonging
• Advertisements for products
Clubhouse's threats & opportunities
With its current form, Clubhouse would struggle to build a business model based on the value given through chatroom content, as the value created is too intermittent to market. If Clubhouse wants to build a content-driven revenue model, it requires a means to assess the quality of its material and ensure its delivery.
With the current design of Clubhouse, users cannot gather value made in a chatroom or "store talks." This technological difficulty makes it tough to keep users because any value they gain from the chatroom is lost as they leave.
The lack of an in-app motivation system to encourage users to join chatrooms will be a worry in the future. Joining a chatroom is currently completely reliant on human interest and the suggestion mechanism, which isn't always a competitive advantage for Clubhouse.
Chatroom hosts may care about metrics like "number of chatrooms hosted" or "rating from the audience." The more chatrooms a host hosts, the more reliable they are, the greater their reputation is, and the more fans and influence they have in Clubhouse, the less likely they are to leave.
At this time, there is no way to control the quality of new members or the quality of chatroom chats. Whatever business model Clubhouse ends up choosing should support the build of a high-quality Clubhouse network and high-quality discussions.
What do you think?
Do you like Clubhouse and how it operates?