Reading Time:
5
minutes
One has to be a step ahead of his/her competitors to survive. And must be very clear on any given opportunity that will help skim the business to the next level. One such important point is to ensure that you are up to date with the changing technology and adapting to the innovations. One such example is Snapchat. It is a one to one and group messaging app for sending photos, videos and text messages that disappear in seconds. It has many features such as stories, memories, and different stickers to portray your messages in a more creative manner.
Marketing your business on Snapchat is not for everyone's business. It is important to have a proper strategy and commitment towards creating unique content to become noticeable. It's not a normal social media application, its more personalised and has more quirky content creation which has its own personality. In recent years, Snapchat has seen an increase in popularity, with user interest and interaction being strong enough to grab business attention.
Why market your company on Snapchat?
Not many people are comfortable with the app, so there is less competition and that makes it more likely to stand out. There is no algorithm that hides your posts and if a user adds a story, it can be easily seen that you have added a story and play it. Also, there are no ads and no extra links to drive away from traffic and from viewing and interacting with the content.
Snapchat user base bends to the younger age group i.e. 71% of all users are under the age of 34-years old. So, if that's the age group you are focusing on then this is the best app to be at to market your products. This also means that the type of content your young audience needs must be carefully considered.
In order to remain effective with Snapchat, you would need to have a marketing plan in place. And since Snapchat is a channel so new from what we're used to as advertisers, the marketing approach is going to be at least a bit different from what you're likely to be doing for other channels.
How do marketers promote their content?
Behind the Scenes – Also known as BTS, people prefer the authentic and raw look of the product. BTS tours and sneak peeks helps the audience to feel connected and be a part of the experience.
Takeovers – Employee takeovers help people get to know their co-workers and see what life is like in your corporation. It's a great way to highlight your culture, your teammates' interests, and get creative and innovative content that is beyond your office and products' field.
User-Generated Campaigns – The exposure of your account can be amplified by curating snaps featuring your audience. Ask your users, audience on other media platforms, and Snapchat friends to send you Snaps that you can use on a particular strategy in an early feature. To allow extra interest and submissions, you could also tie this to a giveaway.
Games – A game can be a fun way to get your audience on Snapchat to connect with you, either from the chat feature or by asking your audience to send you Snaps. That day you might even feature them in your post.
As you share your memories, create amazing experiences and begin to analyze your target audience, this platform gives the potential for immense growth. If you're considering Snapchat marketing for your business, make sure you read about the campaigns mentioned below.
Case Study: Cisco's Snapchat Series
Hardware maker Cisco does not seem like a good fit for Snapchat at first sight. However, in its "Day in the Life of an Account Manager" series, Cisco found a way to make its "boring" industry enjoyable by chronicling the day-to-day activities, meetings and workload of an account manager. The series covers one of Cisco's account managers' regular workloads, humanising a B2B brand better known for its networking hardware. It's entertaining and exciting enough to draw Cisco's tech-savvy audience, as the series blends the mundane with entertainment.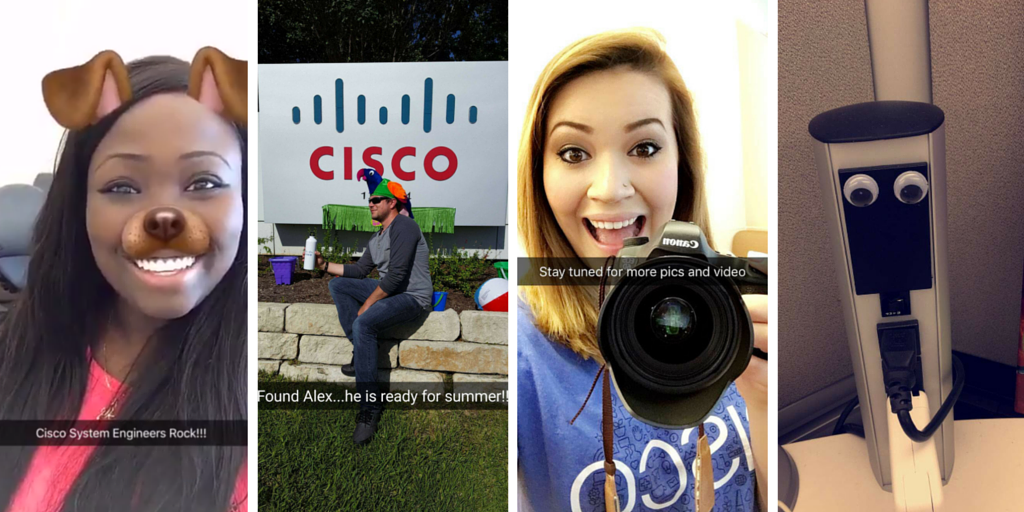 Did it work?
Well, the essential meaning of Cisco's Snapchat campaign is that by focusing attention on the individual side of the business, even the most "boring" brands will create content that is enjoyable, entertaining and intriguing.
Case Study: Gatorade Super Bowl Dunk Lens
Gatorade gained a massive amount of popularity during Super Bowl 50 by developing a personalised sponsored Snapchat lens designed towards fans of American football. As the business called it, #GatoradeDunk allows users to simulate being "dunked" with Gatorade, much like the coach of a victorious American football team. In a commercial starring Serena Williams — one of the company's endorsed athletes, Gatorade advertised the lens.
The lens was immensely famous. It was watched more than 100 million times throughout the Super Bowl weekend. The overall view count had climbed to over 165 million by the end of the campaign.
Was it a success?
The initiative demonstrated football fans with a positive, engaging way to participate in the excitement and feel a stronger connection to the game and their team. In fact, the Gatorade promotion was such a hit that it was brought back in an improved version by the sports drink brand for 2017, encouraging consumers (or at least supporters of the winning team) to dunk themselves to celebrate the victory.
Snapchat is a unique type. It is one of the first platforms for both the consumer and the marketer to successfully gamify ads and make it enjoyable. Snapchat is on track to become one of the world's most dominant outlets in the coming years with its youthful audience and wide scope. It's really in its infancy, and on the platform, it's much easier to get heard. In reality, a study found that when consumers see the Snapchat Story of a company, they watch it 88% of the time in its entirety.
All this suggests that it's a perfect time to start promoting the company and creating a reputation through Snaps and Stories. Snapchat has made a few hits in recent years, between celebrities throwing a few hits that impact use and Instagram and Facebook story throwing a few more. Despite this, the app has managed to succeed on all things considered and still has a loyal user base.
Conclusion
In Conclusion, deciding on the type of Snapchat marketing to use depends to a large extent on:
The needs of businesses,
The type of conversions they are finding, and
They're looking to set up the user journey.
On the whole, the website has proven that it is worth taking care of the brands. Like every other advertisement medium, there is a need for bid strategizing and ad quality monitoring, aside from relying exclusively on innovative communication. So, if you haven't found Snapchat to be your company, well, it seems like a good time to try! And, happily, it is not as difficult to learn Snapchat as you would imagine.
---
About the author:
Yashna Bhagchandani is an MBA student from VES B-School.
She was one of the participants of Optimization – an article writing competition organised jointly by Mercur- I, Marketing club of IIM Indore and Marketing Lake.